VANCOUVER, British Columbia, Feb. 22, 2023 (GLOBE NEWSWIRE) -- Westhaven Gold Corp. (TSX-V:WHN) is pleased to outline its plans for 2023, and to announce that drilling will commence shortly on the 17,623-hectare Shovelnose Gold Property. Shovelnose is located within the prospective Spences Bridge Gold Belt (SBGB), which borders the Coquihalla Highway 30 kilometres south of Merritt, British Columbia.

Gareth Thomas, Westhaven's President & CEO, stated, "2022 was a milestone year for Westhaven. We completed a maiden resource at the South Zone, welcomed Franco-Nevada as a shareholder and drilled our highest-grade gold-silver intercept to date. Finding additional mineralized zones is the main objective for the company in 2023 as the vast majority of the 17,623ha Shovelnose Gold Property has had limited drilling. Our technical team has generated numerous targets outside of the Zone One Trend based on extensive data collected since the initial discovery with the belief this could lead to new discoveries on the property. These will be drill tested throughout the 2023 season commencing shortly." Thomas goes on to add, "Over the course of the last decade, Westhaven has assembled the preeminent land position on the SBGB and we look forward to working all four of these properties in 2023."
Corporate Update
$7.1 million in cash; applied for ~$2.1 million in Mineral Exploration Tax Credits (METC).
Well-financed to accomplish a substantial amount of drilling and exploration work across our four-100% owned properties on the Spences Bridge Gold Belt.
Drills are onsite and drilling will commence shortly at Shovelnose.
2022 Highlights

Completed the first Mineral Resource Estimate at Shovelnose, over a million ounces of gold equivalent from the first of multiple mineralized zones.

791,000 ounces of gold and 3,894,000 ounces of silver Indicated.
263,000 ounces of gold and 1,023,000 ounces of silver Inferred.

Arranged a financing package with Franco-Nevada Corporation (TSX, NYSE: FNV), the leading gold-focused royalty and streaming company.
Drilled 38,147 metres (m) at Shovelnose.
Drilled the highest-grade gold-silver intercept ever on the SBGB.

23.03m of 37.24 g/t gold (Au) and 209.52 g/t silver (Ag), including 1.12m of 294.00 g/t Au and 2,110 g/t Ag.

Confirmed and better-defined high-grade surface mineralization at Franz, resulting in a 311% increase (gram-metres Au) compared to previous high-grade intercepts.
Drilled 3,336m at the Skoonka gold project, and successfully extended the known mineralization a further 900m along strike at the JJ-Zone.

48.05m of 1.28 g/t Au and 1.29 g/t Ag, including 1.9m of 21.15 g/t Au and 13.65 g/t Ag.

Completed the most detailed Archaeological and Cultural Heritage Preliminary Field Reconnaissance Report to date with the Citxw Nlaka'pamux Assembly (CNA) and K'en T'em Management.
Completed 2ND year of an ongoing Environmental Baseline program with SLR Environmental in collaboration with CNA (K'em T'em Management).
Exploration Plans for 2023 by Property
Shovelnose – drill program to commence shortly.
Skoonka – summer field programs with drilling in the fall.
Skoonka North – spring field program.
Prospect Valley – summer field programs.
2023 Drill Targets on Shovelnose
Westhaven will be focusing the majority of its 2023 drill budget on newly generated targets outside of the ~4km long Zone One Trend, host to mineralization previously identified at the South Zone, Alpine, Tower, FMN and Franz zones. Additional drilling is also needed in a gap between Tower and FMN.
Franz
Next steps to establish a resource within this 165m long vein system, and to potentially facilitate the collection of a larger surface sample, would be additional shallow drilling, preliminary metallurgical test work and enhanced environmental baseline studies. Drill targets will be to the northwest of drill hole SN22-333, which intersected 12m of 39.42 g/t Au and 51.81 g/t Ag, including 6.2m of 73.51 g/t Au and 92.37 g/t Ag.
Picture of the Franz Outcrop looking northwest

Franz Northwest
Vein Zone 1 remains open to the northwest of the Franz vein system. The five northwestern-most holes (SN20-123, 124 and SN21-168 to 170) intersected the deeper parts of Vein Zone 1 over a strike length of 300m at elevations of 950 to 1125m. The shallowest intersection, hole SN20-124 returned 0.71 g/t Au over 3.53m. This area may host stronger mineralization closer to surface. A series of shallow holes will test up to 1200m elevation, the interpreted favourable depth horizon. Stepouts even further to the northwest are being considered and will in part depend on the initial shallow drilling of Vein Zone 1 at Franz Northwest.
Long Section: Franz Zone and Franz Northwest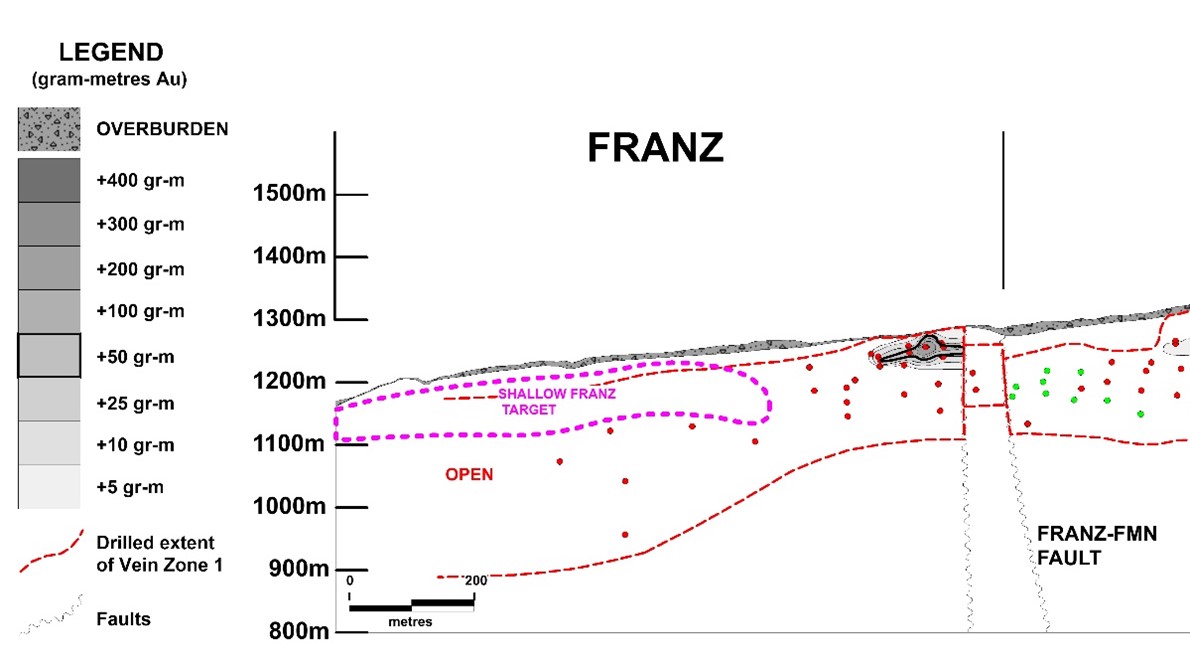 FMN-Tower
Based on the current 3D model and oriented core results collected from the FMN vein zone system since 2020, targets have been generated to further refine the trace of Vein Zone 1 through the FMN-Tower gap. Vein Zone 1 is being reassessed in an area of looser spaced drilling (100m+) that may have missed mineralization. Historical results at Tower include drill hole SN12-04, which intersected 50.4m grading 0.54 g/t Au and 4.77 g/t Ag.
Long Section: Zone One Trend and FMN-Tower Gap
Hydrothermal Breccia No. 2 Target
Drilling of peripheral targets off the main northwest trending 4km-long gold-bearing structure (Zone One Trend) during 2022 encountered a new subparallel vein zone known as Hydrothermal Breccia No. 2. Drill holes on two sections intersected a west-northwest oriented zone of quartz-carbonate veining in the granodiorite basement over a strike length of 400m in holes SN22-249 (3.28 g/t Au over 0.9m) and SN22-257 (1.39 g/t Au over 1.2m and another 1.23 g/t Au over 6m). This zone is 1.2km east-northeast of Vein Zone 2 at South Zone, remains open along strike in both directions, and will be tested by more drilling in 2023.
Brookmere-Kirton Target
The Brookmere and Kirton targets are situated near the western margin of the Shovelnose claim block. Geophysical data indicates the presence of both a broad scale potassic alteration halo and a west-northwest trending structural break parallel to the Zone One Trend, hosting the South Zone, FMN Zone and Franz Zone and located ~2km to the northeast. Soil and rock geochemical sampling has returned anomalous values for gold and other pathfinder elements within a restricted area. Both target areas are interpreted to be part of a new, as yet undrilled, epithermal system (see schematic below). 
Simplified Low Sulphidation Epithermal System Schematic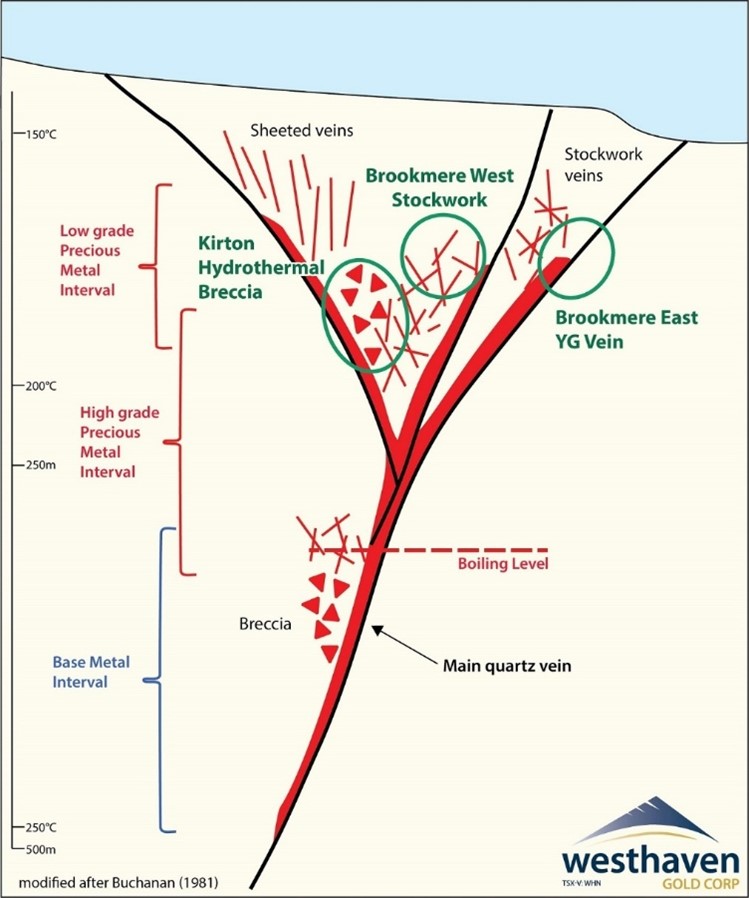 Brookmere East (the YG quartz vein outcrops) may represent either a high-level portion of the main quartz vein in the schematic epithermal system, or the sheeted veins above it (see schematic). Brookmere West (CJ Showing) consists of stockwork veins and hydrothermal breccia that may lie within the upper flared portion of the epithermal system.
The Kirton target is represented by a sizable (200 x 500m) zone of outcropping felsic hydrothermal breccias elongated on a northeastern trend (see photographs). This hydrothermal brecciation may be situated within the flared portion of an epithermal system (as shown on the schematic). Drilling in 2023 will test the surface exposures of both Brookmere and Kirton at depth.
Hydrothermal Brecciation from Surface Exposures of the Kirton Zone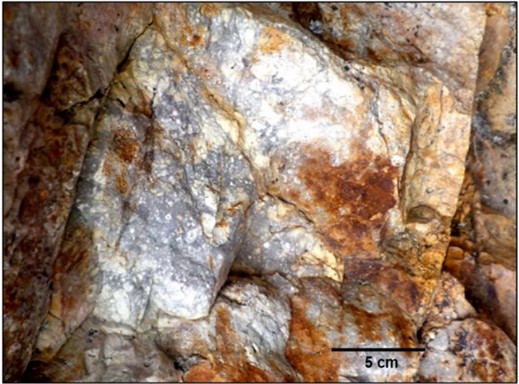 Hydrothermal breccia with potassic to clay altered rhyolite.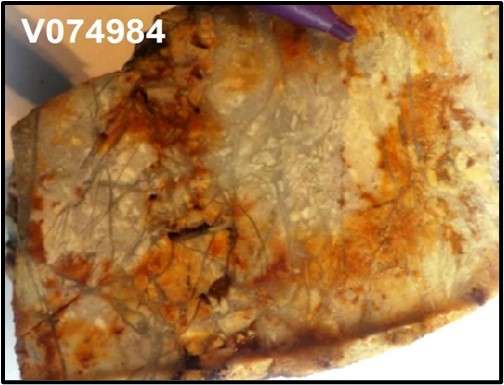 Later stage fine quartz veinlets cutting the breccia.
2023 Skoonka Program
The Skoonka project contains nine known gold-silver surface showings (Discovery, JJ, Deadwood West, Deadwood East, Ember, Backburn Central, Backburn Southeast, Porphyry and Zebra) hosted in either multi-stage massive veins with associated breccia zones or narrow stockwork veinlets with disseminated pyrite and pervasive silica alteration. Compilation, review and re-interpretation of extensive historical exploration data (including airborne and ground geophysics; geological mapping and prospecting; silt, soil and rock samples; hand and mechanized surface trenching; and diamond drill results) has identified significant upside potential associated with previously known gold occurrences, as well as unsourced anomalies.
Westhaven's first drill program, completed in the fall of 2022 (see Westhaven Press Release of January 09, 2023) confirmed prior high grade bonanza style epithermal mineralization at the JJ showing, intersected a broad lower grade halo of brecciation and alteration, and extended the associated mineralized vein system an additional 900m southwest to the new JJ West discovery. The entire vein system at JJ-West appears to be preserved, as supported by mapped surface geology indicating the overlying Spius Formation is present in a down-dropped fault block, and coincident strong mercury soil anomalies.
For 2023, Westhaven intends to focus 'boots on the ground' exploration on specific target areas with short term discovery potential, such as unsourced new geochemical anomalies and unexplained features in immediate proximity to known showings (e.g. Ember and Deadwood). Work later in the season will include follow-up to any new discoveries in the initial program and further investigation along strike/down dip of past mineralized drill intersections.
On behalf of the Board of Directors
WESTHAVEN GOLD CORP.

"Gareth Thomas"

Gareth Thomas, President, CEO & Director
Neither the TSX Venture Exchange nor its Regulation Services Provider (as that term is defined in the policies of the TSX Venture Exchange) accepts responsibility for the adequacy or accuracy of this release.
About Westhaven Gold Corp.
Westhaven is a gold-focused exploration company advancing the high-grade discovery on the Shovelnose project in Canada's newest gold district, the Spences Bridge Gold Belt. Westhaven controls 37,000 hectares (370 square kilometres) with four 100% owned gold properties spread along this underexplored belt. The Shovelnose property is situated off a major highway, near power, rail, large producing mines, and within commuting distance from the city of Merritt, which translates into low-cost exploration. Westhaven trades on the TSX Venture Exchange under the ticker symbol WHN. For further information, please call 604-681-5558 or visit Westhaven's website at www.westhavengold.com.
Shovelnose Property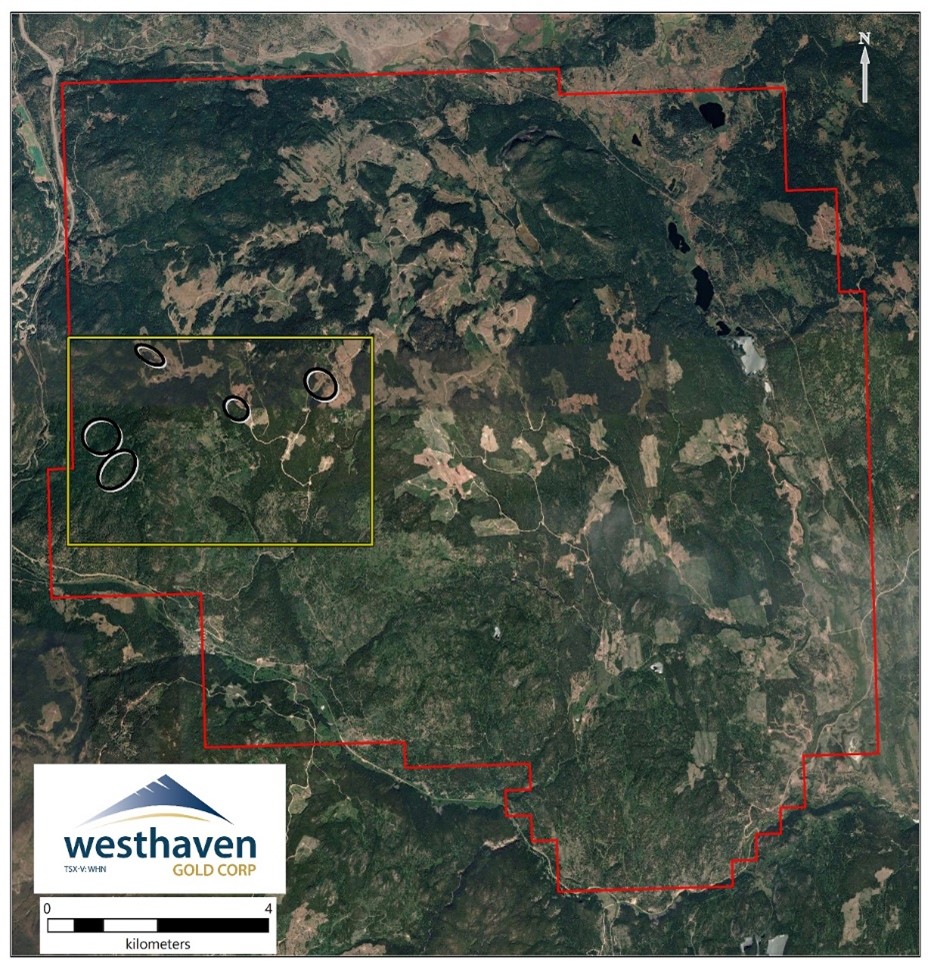 Drill Targets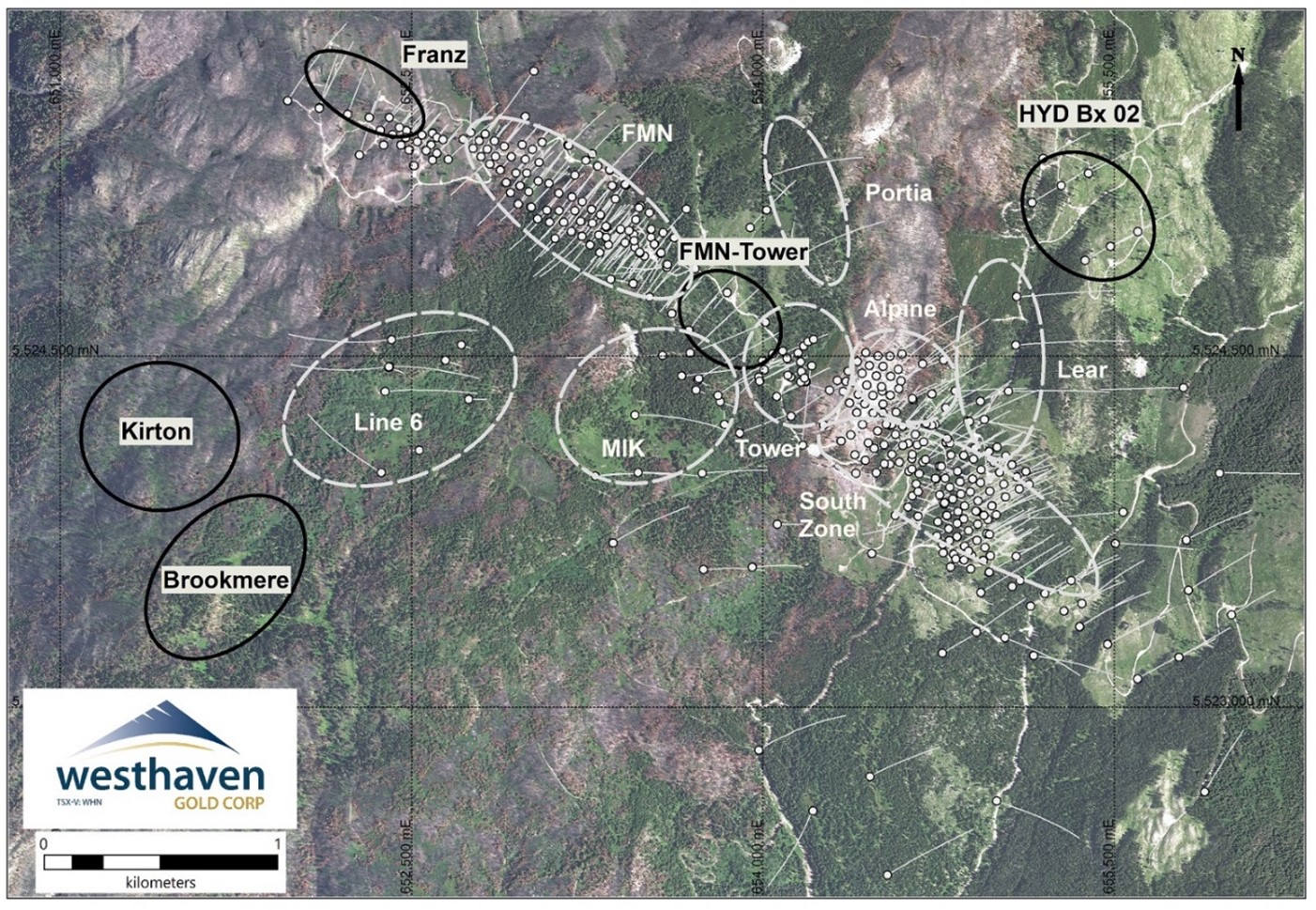 Skoonka Property
Maps accompanying this announcement are available at
https://www.globenewswire.com/NewsRoom/AttachmentNg/ca94d1f3-9b7f-43dd-8362-016449546776
https://www.globenewswire.com/NewsRoom/AttachmentNg/9c84474b-e5e2-47f6-b856-0b0959f620f1
https://www.globenewswire.com/NewsRoom/AttachmentNg/ccaf3b30-0cb0-4c97-82d0-0dc47af5c1ee
https://www.globenewswire.com/NewsRoom/AttachmentNg/816e58b4-5546-4594-96fa-6d60c4d3f2ce
https://www.globenewswire.com/NewsRoom/AttachmentNg/0173d081-2e60-4ae3-b091-b62a5a239e8b
https://www.globenewswire.com/NewsRoom/AttachmentNg/abdbddc4-432f-4184-9023-2a78c6ed3954
https://www.globenewswire.com/NewsRoom/AttachmentNg/619f9777-0523-4eef-914a-3ff97dcfe85c
https://www.globenewswire.com/NewsRoom/AttachmentNg/571bb057-aed4-4eea-ac24-a69692b2d51d
https://www.globenewswire.com/NewsRoom/AttachmentNg/fd4c62f6-cd8c-4a54-929c-9c2507800e75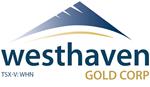 Image 1

Picture of the Franz Outcrop looking northwest
Image 2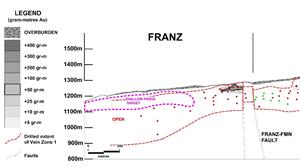 Long Section: Franz Zone and Franz Northwest
Image 3

Long Section: Zone One Trend and FMN-Tower Gap
Image 4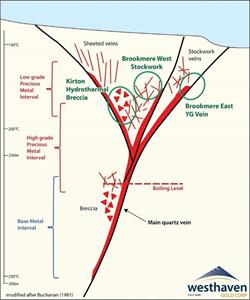 Simplified Low Sulphidation Epithermal System Schematic
Image 5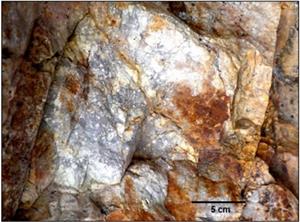 Hydrothermal breccia with potassic to clay altered rhyolite.
Image 6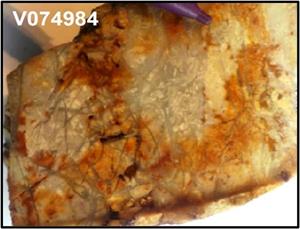 Later stage fine quartz veinlets cutting the breccia.
Image 7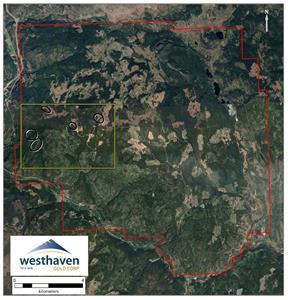 Shovelnose Property
Image 8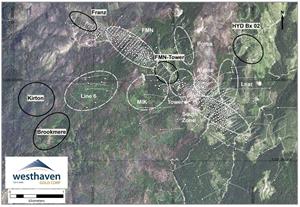 Drill Targets
Image 9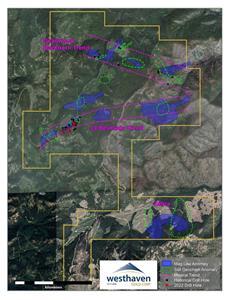 Skoonka Property