During last weekend's video, I noted what I believe to be the most important long term chart that investors should be aware of:
Gold/XLF (Monthly - 20 Year)
Remember, this is a 20 year chart that illustrates two major multi-year cycles:
The 2002-2011 gold bull market was punctuated by two major financial crises: The Global Financial Crisis (2007-2009), and the Eurozone Sovereign Debt Crisis (2010-2012).
The 2012-2018 gold bear market - a period that was characterized by low inflation and relative stability across global financial markets.
If my assessment is correct, we are much closer to where markets were in 2005/2006 than anywhere else on this chart. The Gold/XLF ratio has hammered out a well constructed multi-year base, and it is just now beginning to move skyward.
Why would gold become more valuable relative to financial stocks?
A return to sound money and a plunge into a financial whirpool is a good enough answer for me. Counterparty risk permeates the $300 trillion in global debt and everyone is seeking a bailout or a government backstop for their poor risk taking.
If the Chairman of the Federal Reserve didn't understand how Silicon Valley Bank's failure happened until the weekend AFTER, then we are all surely flying blind.
A character in one of Earnest Hemingway's novels was asked how he went bankrupt. His answer was "Gradually, then suddenly."
A similar process recently befell Silicon Valley Bank and Credit Suisse - this begs the questions "Who's next? And how many more?"
Gold remains the timeless store of value with no counterparty risk, and a strong track record of generating uncorrelated returns during periods of systemic stress in the financial system.
Furthermore, from a purely technical analysis vantage point it seems to me that many of the financial stocks are broken:
SCHW (Daily)
WFC (Daily)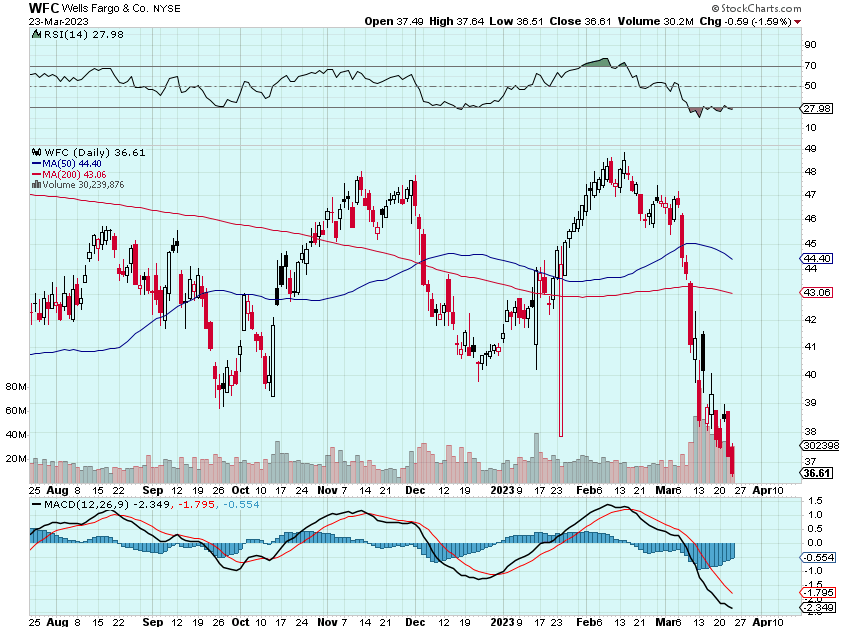 These stocks are oversold enough that a bounce could be expected imminently; however, the problem is that they have been deeply oversold for weeks, and we've only seen short-lived, single-day short squeezes.
Never mind that the KBW Regional Banking Index has broken down from a multi-year top with incredible force:
KRX (Weekly)
From my perch, the financial charts are sounding a blaring red light warning sign.
Meanwhile, gold has had a powerful rally in recent weeks (from $1810 to $2014). This morning, gold finds itself flirting with the $2,000 psychological level yet again, its 3rd test of this level in the last 100 hours. With the Daily Sentiment Index for gold up to 85 as of yesterday's close, the standard expectation would be for a gold futures smackdown during Friday's US trading session.
If such a smackdown does not materialize, it will be confirmation that a major sea change is upon us.
DISCLAIMER: The work included in this article is based on current events, technical charts, company news releases, and the author's opinions. It may contain errors, and you shouldn't make any investment decision based solely on what you read here. This publication contains forward-looking statements, including but not limited to comments regarding predictions and projections. Forward-looking statements address future events and conditions and therefore involve inherent risks and uncertainties. Actual results may differ materially from those currently anticipated in such statements. This publication is provided for informational and entertainment purposes only and is not a recommendation to buy or sell any security. Always thoroughly do your own due diligence and talk to a licensed investment adviser prior to making any investment decisions. Junior resource companies can easily lose 100% of their value so read company profiles on www.SEDAR.com for important risk disclosures. It's your money and your responsibility.